Franconia UMC currently has 4 casual dining/social groups, which are commonly known as "Dinners for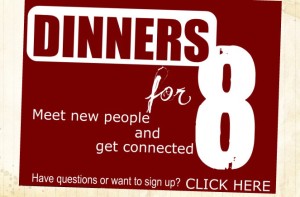 Eight" (D48).  Here's how it works: those wishing to be part of a D48 group submits his or her contact information along with any caveats (would prefer other couples/singles/kids/no kids) to our D48 coordinator, Blythe Norris. Blythe puts the preferences in order and otherwise randomly picks participants to make up the D48 groups. Groups are switched around every couple of months to help create larger circles of friends.
To be part of the next process, please email D48 coordinator, Blythe Norris.