On Sunday, October 8th, we will begin our new worship and sermon series called: Enough: Discovering Joy Through Simplicity and Generosity.  Money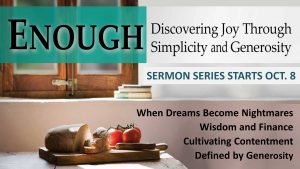 has great power in our lives, and when used wisely, help us meet our goals, provide for our needs, and fulfill our life purpose.  Our culture's emphasis on the pursuit of more has caused many of us to ignore biblical financial wisdom when managing and spending our money. We found ourselves spending tomorrow's money today.  The result of all of this was not greater happiness and satisfaction, but greater stress and anxiety.
Enough is an invitation to rediscover the Bible's wisdom on matters of finance.  Over a period of four weeks, we look at some of the financial challenges facing us as a nation and have the opportunity to examine our own spending, saving, and giving habits.  We will explore the keys to experiencing contentment, overcoming fear, and discovering joy through simplicity and generosity.
We also encourage you to participate in our stewardship study, Earn Save Give by James Harnish  that is being offered. This study will explore John Wesley's three simple rules for practical money management.  This four-week study will begin the week of October 8th.  There are three opportunities to plug in: Sundays at 9:45 AM (Span of Ages); 11:00 (The Upper Room Class) and Monday nights at 7:15 pm.
At the conclusion of our worship series and study, we will have the opportunity to make personal commitments of our offerings to God through our church in the coming year. We will consecrate these commitments in the worship services on October 29th, with a celebration reception at 12:15 p.m.
Our financial stewardship is an important aspect of our discipleship, but it is also part of the key to living into the full abundant life that God offers.   I hope you will join in the coming weeks as we look at the how we can manage our financial resources and truly experience that God is "Enough."
Blessings,
Pastor Melissa