The Franconia United Methodist Women (FUMW)  have recently redesigned their ministry. There is now one group, simply called The Franconia Women, instead of individual circles. We don't host regular meetings but we communicate in person while at church or via email. For more information about the Women or to be added to the email distribution, contact Vikki Beaty.
Here's a brief overview of the activities of our Women's group:
* collect small luggage pieces for donation to UMFS for foster kids;
* make prayer rocks, as one is placed into each piece of luggage during preparation for donation to UMFS;
* collect luggage tags, as one is attached to each piece of luggage donated to UMFS;
* collect personal hygiene items for donation to the homeless, distribution by FUMC Phoenix Rising Food Ministry;
* collect greeting cards for donation to clients at Crossroads;
* send pocket quilts, in response to receipt of a name and address, to service members and civilians serving away from home, reminding them they are remembered and covered in prayer;
* sustain the pocket quilts at several locations within FUMC awaiting knots tied with prayer for health, safety, and comfort of service members and civilians serving away from home; and,
* donate $50 to the FUMC Memorial Fund  upon death, in honor of a member or immediate family member; and,
* provides a rose  for the altar in honor of babies born into the congregational family.
Update from March, 2015: FUMW Delivers Luggage
The Franconia UMW donated another piece of luggage to the United Methodist Family Services, to be given to a child within the UMFS foster care program. The luggage will provide a level of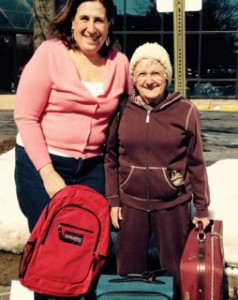 self-respect for a child, alleviating their possessions being stuffed into garbage bag(s) for their relocation into/between foster care homes or facilities. The FUMW decided the luggage project to be their primary purpose as God's mission for them early in 2014, shortly after learning of a child in foster care almost lost their only "family" possession: their family photo fluttered from a garbage bag as the new foster dad was taking the freshly emptied sack to the trash. How close the loss came!
Your used, small luggage is needed. Please bring to church, if possible include a luggage tag, attach a donation note "FUMW".
Know that each piece will be into the hands of a kid shortly after your donation. This is a great way to tell a kid: We care, and YOUR stuff matters!